When the Sarbanes-Oxley (SOX) Act was passed in 2002, enterprises were forced to implement greater protections to combat accounting errors and fraud. To stay compliant, many companies started to use SOX compliance software to manage regulatory obligations and prepare for audits. In this article, we're going to look at the 10 best SOX compliance software.
The list includes a range of the top SOX compliance tools for Windows, Mac OS, and Linux. We've included a mix of compliance and reporting, log management, and endpoint protection tools.
HERE IS OUR LIST OF THE 10 BEST SOX COMPLIANCE SOFTWARE:
SolarWinds Security Event Manager (FREE TRIAL) Our top pick. Log management software with log collection and a real-time event correlation engine that can detect suspicious activity and SOX compliance reports.
Workiva Internal Controls Management Compliance and reporting software that can be used to manage SOX compliance with custom dashboards and reports.
AuditBoard SOX compliance software with custom reports, documentation version history, role-based permissions, issue management, and more.
Netwrix Auditor Auditing and compliance solution that can create risk assessment reports, control user access to resources, and alert on suspicious activity.
LogicManager SOX compliance software with risk control frameworks, to-do lists, real-time alerts, and more.
ManageEngine EventLog Analyzer Log management software with SOX compliance reports, file integrity monitoring, real-time alerts, and more.
Endpoint Protector Data loss prevention and endpoint protection tool for Windows that allows you to set file transfer policies, block unauthorized transfers, and scan for confidential data.
Onspring Compliance Software Control and compliance management software that allows you to document and monitor SOX controls, create reports, and more.
RSA Archer eGRC solution with a central repository for regulation feeds, with automated regulatory content analysis, reporting, and more.
Galvanize ControlsBond SOX and internal control management software with automated remediation workflows, reports, centralized control management, and more.
THE BEST SOX COMPLIANCE SOFTWARE 
1. SOLARWINDS SECURITY EVENT MANAGER (FREE TRIAL)
SolarWinds Security Event Manager is a log management tool that allows you to collect logs and monitor them in real-time through a single GUI. You can use the software to demonstrate SOX Compliance by creating an audit trail of network events with real-time event correlation. Real-time event correlation enables you to detect suspicious or anomalous events that could lead to data being stolen.
The tool also comes with automated reports that you can use to create a record of SOX compliance. Scheduling these reports enables you to receive periodic updates on your compliance status. Reports are customizable so you can include the information that's most relevant to your environment. Reports are also compatible with other regulatory frameworks including HIPAA, PCI, and DSS.
To help prevent fraud, SolarWinds Security Event Manager includes user activity monitoring. With user activity monitoring, you can monitor user activity logs to see how they've interacted with resources, which helps to identify malicious activities. If the correlation engine detects suspicious behavior then it can respond automatically by blocking IP addresses, logging out the employee, restarting the machine, and more.
SolarWinds Security Event Manager is a solution fit for enterprises that want an IT security tool that can be used to detect fraud. The price of a perpetual license starts at $4,805 (£3,769). Supports Windows, Mac OS, and Linux. You can start the 30-day free trial.
Key features: 
Detect security threats with real-time event correlation
Network intrusion detection
Customizable reports
User activity logs
2. WORKIVA INTERNAL CONTROLS MANAGEMENT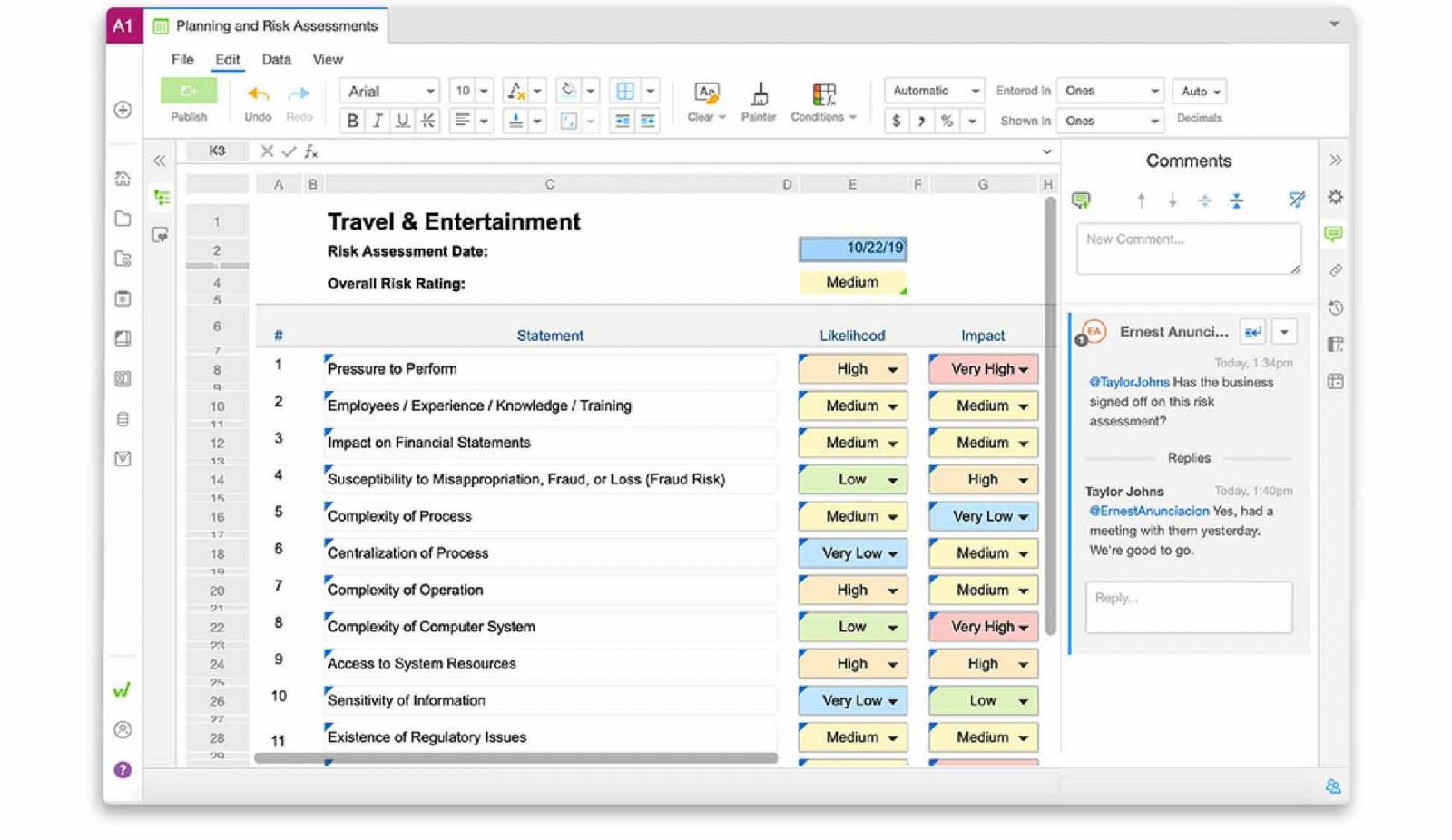 Workiva Internal Controls Management is a compliance and reporting solution designed to help manage compliance for regulations like SOX. You can use the tool to conduct a risk assessment to find vulnerabilities in your environment, and record your current internal controls in one place. For example, you can view a flowchart of the processes throughout your environment so you can see if your data is exposed to any unnecessary risk factors.
If there are weaknesses in your environment then you can monitor issues through the dashboard and collaborate with other users on controls and risk assessments to make changes to your cybersecurity strategy. You can also use custom reports to gather information on your current compliance standing, viewing a breakdown of risks throughout your environment with graphs and pie charts.
The platform is also equipped for auditing scenarios with a clear audit trail so you can who changed resources, and when. Users also have the option to sign-off on documents in real-time making sure that there's no ambiguity over whether a doc was approved or not.
Workiva Internal Controls Management is ideal for users that are in the market for SOX compliance software to manage their compliance goals. To view pricing information for the software you need to contact the sales team directly. You can also request a demo from this link here.
Key features:
Run risk assessments
Record internal controls
Collaborate on risk assessments and controls
Compliance dashboards
Custom reports
3. AUDITBOARD
AuditBoard is a web-based SOX and compliance management tool for enterprises. With AuditBoard you can monitor SOX compliance in real-time through a dashboard. The platform also comes with reports with out-of-the-box templates, that can also be customized with a report builder.
The program also centralizes management of your SOX documentation, so you can see what risks your environment has and the controls you have in place at any time. Documentation comes with version history and role-based permissions so you can see what changes were made, and ensure only those with permission make changes.
If there's a problem in your environment, you can use issue management to automatically link issues to a deficiency log. The issues management capabilities of the program allow you to record issues and implement remediation actions efficiently. There are also automated notifications that let you know about updates to controls and new tasks, resulting in faster remediation.
AuditBoard is a tool aimed at enterprises that want to get a top-down perspective of overall SOX compliance. For pricing information, you need to contact the company directly. You can request a demo from this link here.
Key features:
Real-time dashboards
Custom reports
Centralized documentation
Issue management
Automated notifications
READ MORE:10 Best SOX Compliance Software