Which is the best offsite data backup services for small business and enterprise? Amazon S3 is one of the biggest offsite auto backup and storage services, for those with bad experience and in search of alternatives, we've narrowed down to 10 of the best Amazon S3 alternatives.
Offsite vaulting, also known as Cloud Data Backup needs no explanation. While Dropbox is one of the more popular cloud syncing and backup services in the market, it is cater towards the consumer and not for businesses. They are great for sharing photos and files, syncing between devices but when it comes to duplicating and backing up SQL database or Applications, you will need an Offsite Vaulting. According to Wikipedia on Off-site data protection.
Off-site Vaulting vs Local Hard Disk Backup
The main reason for backing up files to a remote site is safety. Undeniably a local Western Digital or Seagate hard disk are cheaper and faster, the question is what if there is a fire? or what if there is a break in and all hardware are stolen? What if there is a virus attack and it destroys all the files? Not to mention riots, earthquakes, flooding, terrorism attacks and more. Offsite vaulting solves all of this problem when you have dual copies of everything in 2 different location.
In computing, off-site data protection, or vaulting, is the strategy of sending critical data out of the main location (off the main site) as part of a disaster recovery plan. Data is usually transported off-site using removable storage media such as magnetic tape or optical storage. Data can also be sent electronically via a remote backup service, which is known as electronic vaulting or e-vaulting.
01 – Zetta – Local Enterprise Backup Solutions & Services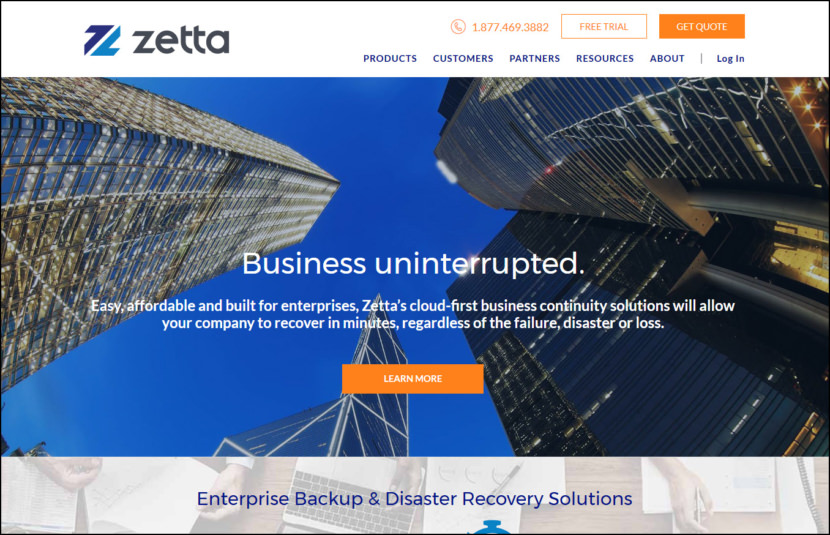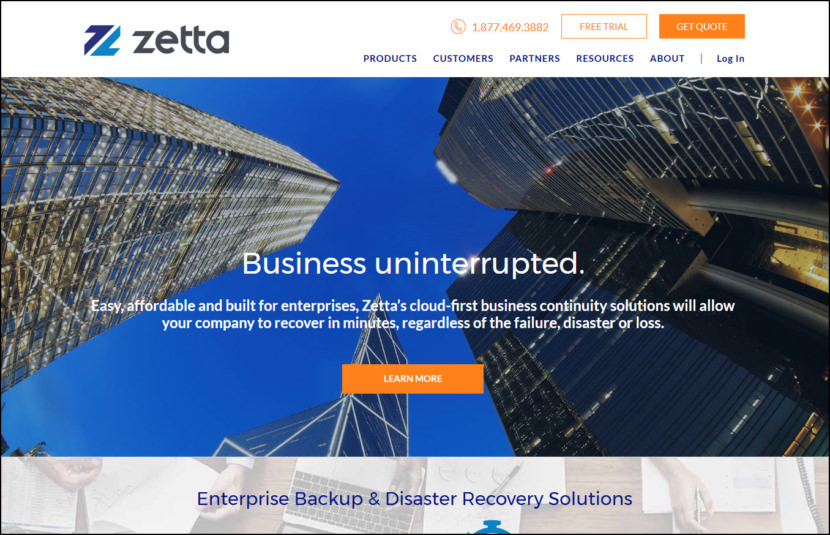 Easy, affordable and built for enterprises, Zetta's cloud-first business continuity solutions will allow your company to recover in minutes, regardless of the failure, disaster or loss. Our award-winning enterprise cloud backup and restore solution is optimized for datasets up to 500 TB. Get reliable data protection for all your physical and virtual systems, so you can always recover what you need fast from and to anywhere. Zetta Disaster Recovery – Push button failover protection for all of your business-critical data & applications. If disaster strikes, you can have your entire IT environment operational in Zetta's secure cloud in less than five minutes. Disaster recovery priced significantly lower than traditional providers.
Native file system replication to the cloud
Back up full server images directly to the cloud without an appliance or local staging drive
Software licenses for unlimited servers and endpoints
Remote backup service and online storage
Web-based or mounted drive for instant recovery
Customizable snapshot-enabled version history
Automated daily backups to online storage
Leverage existing storage for local backups
↓ 02 – Carbonite – Simple Offsite Backup For Business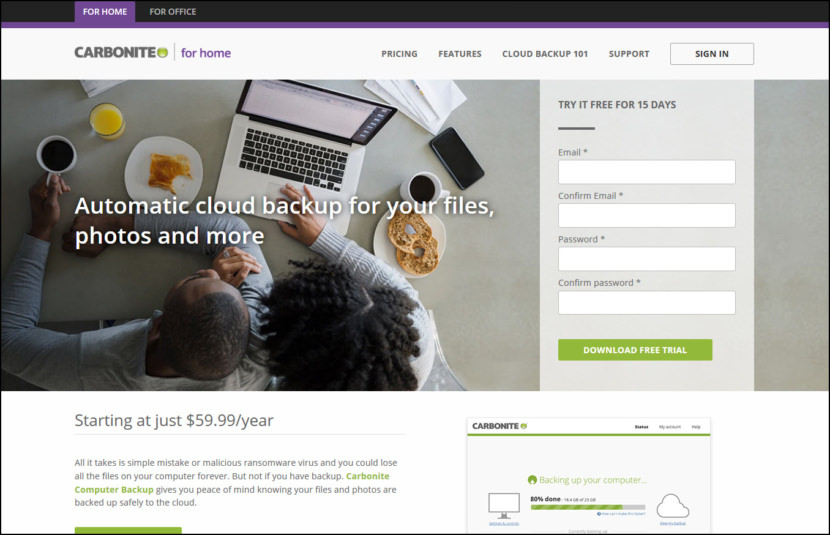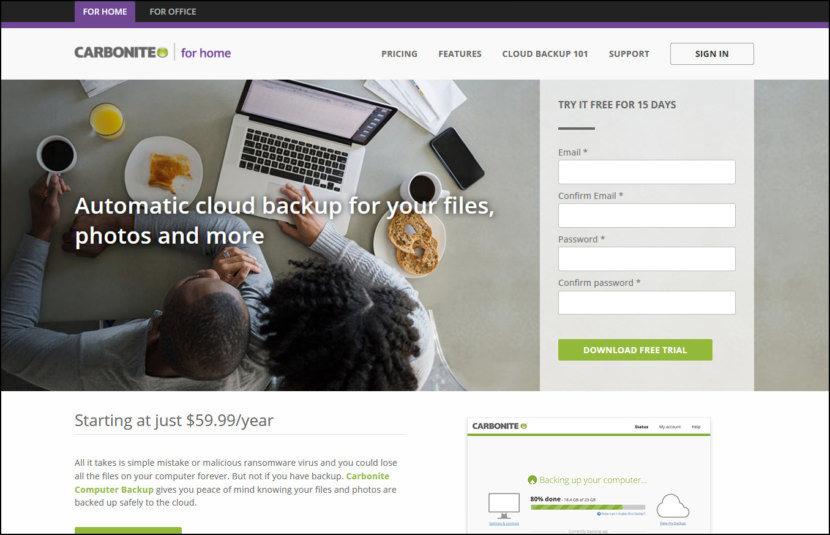 All it takes is simple mistake or malicious ransomware virus and you could lose all the files on your computer forever. But not if you have backup. Carbonite Computer Backup gives you peace of mind knowing your files and photos are backed up safely to the cloud. Carbonite for office gives small businesses all the tools they need to protect computers and servers, without complexity or overkill. Works great on Microsoft's Windows 10 and Apple's macOS.
Databases & live applications backup for Microsoft SQL Server 2014, 2012, 2008, 2005 and 2000, Windows NTFS & ReFS files and folders.
Your files are encrypted using 128-bit Blowfish encryption
↓ 03 – Data Deposit Box – Automatic Cloud Backup For Small Business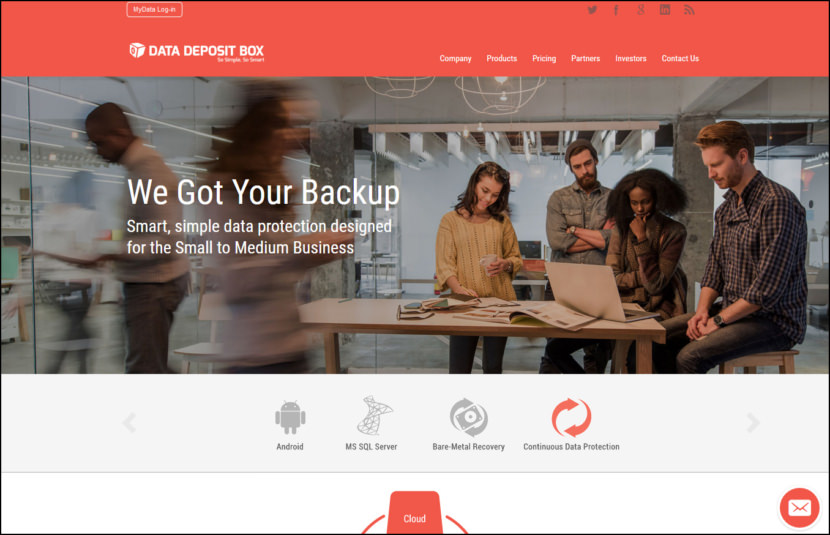 Let's face it. Your data IS your business and you want protection that's built with your needs in mind. Too many SMBs do not have a proper data protection solution or use complicated systems designed for large enterprises, which can put their data and profits at risk. That's why Data Deposit Box is designed specifically for SMBs.
Unlimited Server, PC & Mac backup
Supports NAS devices and ext. hard drives
Backup Exchange, Oracle, SQL, MySQL, Sharepoint & more
Unlimited FREE local storage
Keep an unlimited amount of generations
Vmware file level or snapshot backup
Backup networked machines
Read Also
6 Free Compact Flash and SD Memory Card Data Photo Recovery Software
↓ 04 – Mozy – Military Grade Security Encrypted Backup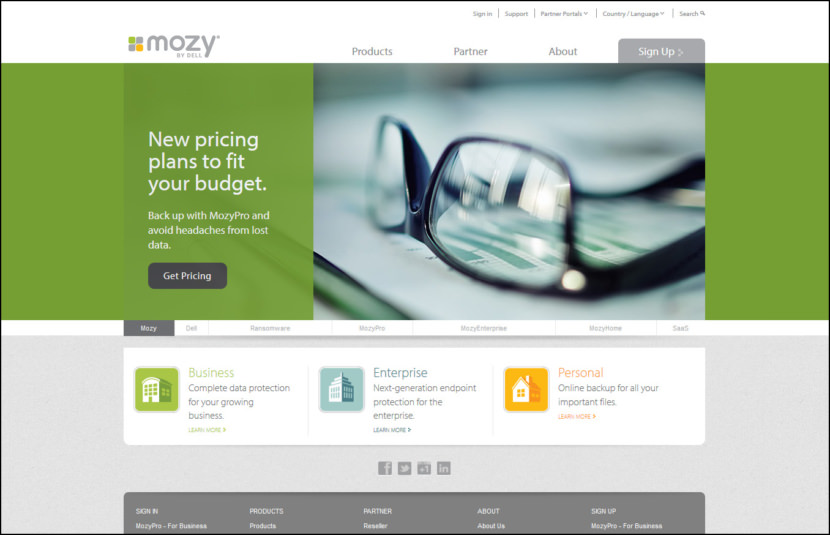 MozyEnterprise seamlessly protects endpoints and remote offices, helps increase workforce productivity with file sync and mobile access, and keeps IT in control of corporate data. Our proven cloud backup solution for desktops, laptops, and small servers gives you more complete data protection for users on any network, while the powerful administrative console lets you manage it all from anywhere. What does this mean for you? It means you can fry the bigger fish.
All files are first secured with a personal 256-bit AES or Mozy-managed 448-bit Blowfish encryption key
MozyPro servers are located in carefully chosen world-class data centers that are protected by gated perimeter access, 24x7x365 onsite staffed security and technicians, electronic card key access, and strategically placed security cameras inside and outside the building.
↓ 05 – KeepVault Pro – Cloud And Local Backup Protection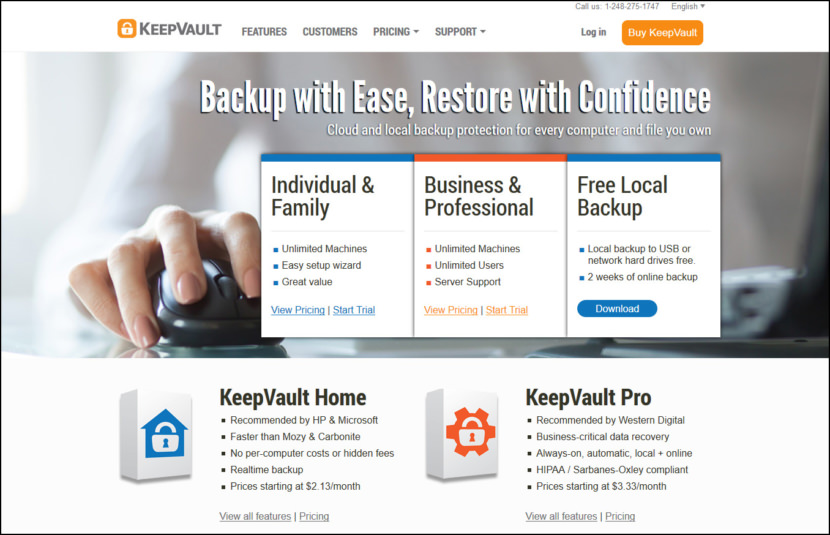 Unfortunately, your computer is vulnerable. Hard drive failure, viruses, theft, natural disasters, etc. occur all the time. Roughly 1 in 10 hard drives fail each year. Lost data is gone forever. KeepVault is like insurance for your data, protecting your files the moment they change, to both a local backup drive and our secure online backup servers! You can access and restore your files any time from any computer.
Ultra secure end-to-end 256bit encryption
backup Windows Server Operating Systems
Unlimited number of devices
↓ 06 – Elephant Drive – Beyond Cloud & Sync Offsite Backup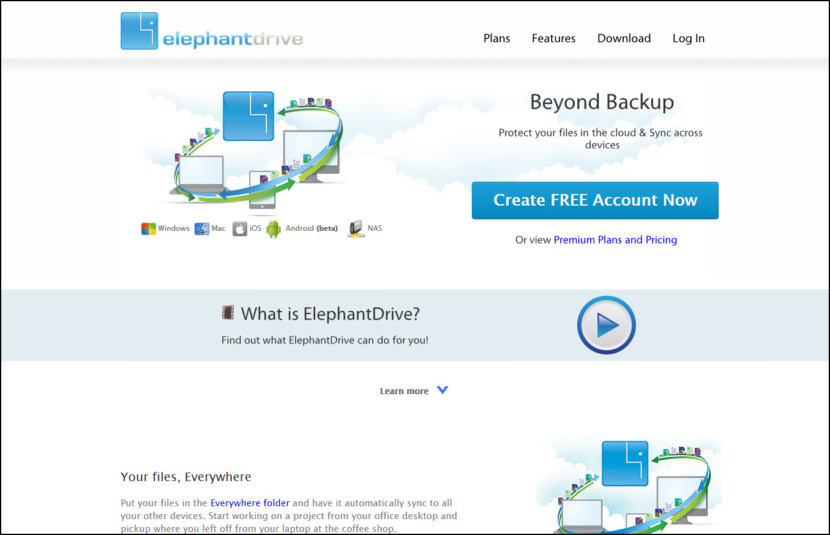 ElephantDrive is committed to providing individuals and businesses simple but powerful tools for protecting and accessing their data. We want ordinary people to enjoy the peace of mind that comes from the type of enterprise-class backup, storage, and data management that has historically only been available to big corporations, and the convenience of the latest and greatest web-based solutions.
Safe and Secure – Data is always encrypted with AES-256 bit encryption before it even leaves your device! Transfer of the already encrypted data is also done using a 128 bit SSL secured channel.
Direct backup from NAS – Back up data directly from your NAS to the ElephantDrive cloud. ElephantDrive is natively integrated with most leading NAS devices (NETGEAR, Drobo, QNAP, Western Digital, Thecus, Synology). No need for mapping the NAS to your computer!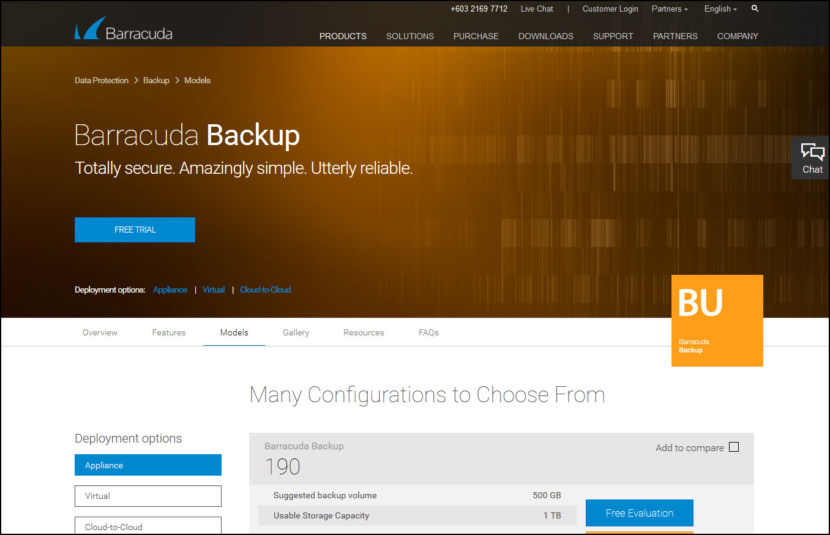 The Barracuda Backup is an affordable, integrated local and offsite data backup and disaster recovery solution. The Barracuda Backup combines an onsite appliance with a flexible monthly, quarterly or yearly subscription that replicates data offsite. Combining local and offsite storage provides the best of both worlds – onsite backups for the fastest restore times and secure, offsite storage for disaster recovery.
Barracuda Backup Agent – Windows File System & System State, Bare Metal Recovery, Microsoft Applications (Exchange, SQL & SharePoint), Linux
Network Backups Included – NAS, SAN, Unix, Linux, Mac OS X
Virtual Environments – VMware vSphere, Microsoft Hyper-V
Offsite Vaulting – Vault aged data offsite to Barracuda Cloud Storage and store up to 30-days of revisions on local cache
↓ 08 – CrashPlan – Secure Online Data Backup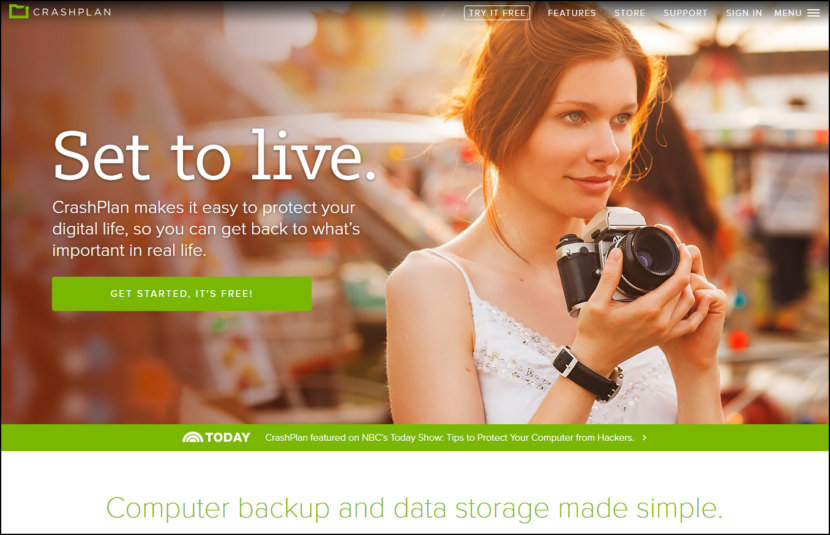 Even when you step away, CrashPlan is busy at work protecting all your important files. Music, photos and documents are all automatically, continuously protected, so you can get back to whatever life throws your way. Enjoy free backup to an external drive and any trusted, internet-connected computer. Or experience the full trifecta of fearlessness with a subscription to our cloud-based destination, CrashPlan Central. Only CrashPlan offers such comprehensive protection.
Secure Data End-to-End – Data is encrypted before leaving the device and stays encrypted in-transit and at rest using AES 256-bit encryption.
Restore From Anywhere – Restore files to any iOS or Android device—at any time—even out of the office and without connecting through a VPN.
Capture Every File – Files are backed up automatically as they change, giving you access to every file, including deleted files.
Make Data Leak Visible – Shed light on the data moving to and from endpoint devices to gain a single point of visibility and control across every employee.
Read Also
5 Amazing Freeware & Method To Recover Data From Crashed or Damaged Hard Drive
↓ 09 – SpiderOak – Online File Sharing & Cloud Backup Software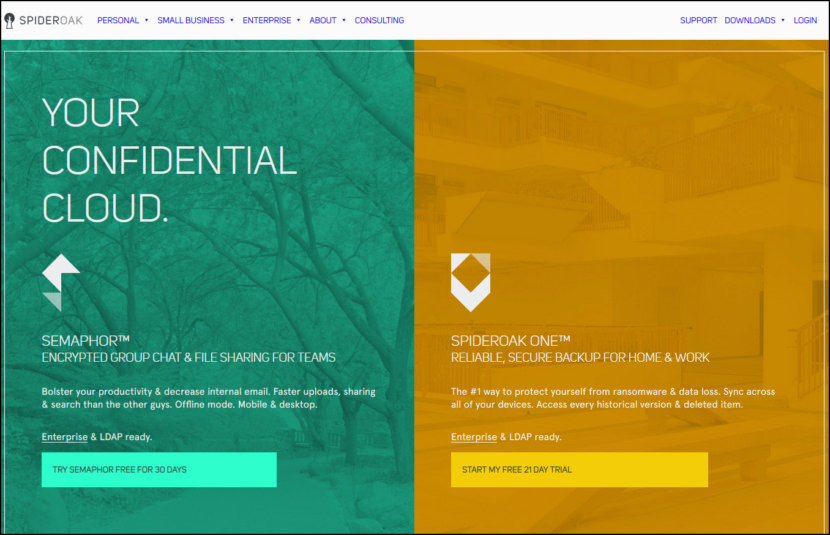 We believe our computers and phones should not make us vulnerable, but instead be safe extensions of ourselves and our work. That's why we've been building, secure-by-default products for the past 11 years. We are working to create a world where privacy is the norm, end-to-end encryption is the standard, and security and usability are synonymous.
Ransomware Protection & Disaster Recovery for Your Sensitive Data – Scalable, deployable & flexible hosting. Prevent data loss & increase organizational security with No Knowledge, end-to-end encrypted endpoint backup. You manage the keys. Enterprise & LDAP ready.
↓ 10 – BackBlaze – Unlimited Online Backup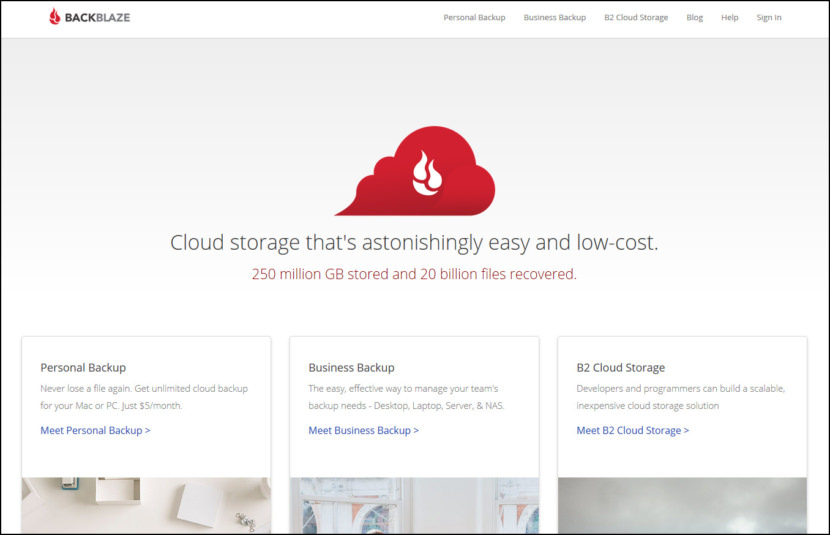 Cloud storage that's astonishingly easy and low-cost. 250 million GB stored and 20 billion files recovered. Never lose a file again. Backup an unlimited amount of data. Unlimited bandwidth. Unlimited file size. You can download a free restore or have a USB hard drive or USB key Fedex to you. Backblaze is just $5/month. The same award winning backup service is available to business for the price of $50/year/computer. Unlimited Data. No throtteling. Backup all your companies laptop and desktop computers to the cloud.
Unlimited Data Backup
Mac or PC – Laptop or Desktop. No caps, no throttling, and simple pricing.
Free Hard Drive Restore
We'll send you a hard drive with your data anywhere in the world, send it back for a full refund.
Easy To Use Web Interface
Users can manage their own data. Admins can act on a user's behalf as well as see alerts
How To Choose An Enterprise Backup Solution?
While there are many different options and ways to backup and recover your data, we believe an enterprise backup appliance rather than a collection of software and hardware, or a "bundle", ma be the best solution for your business. With so many options, though, how do you know if you're choosing the right one?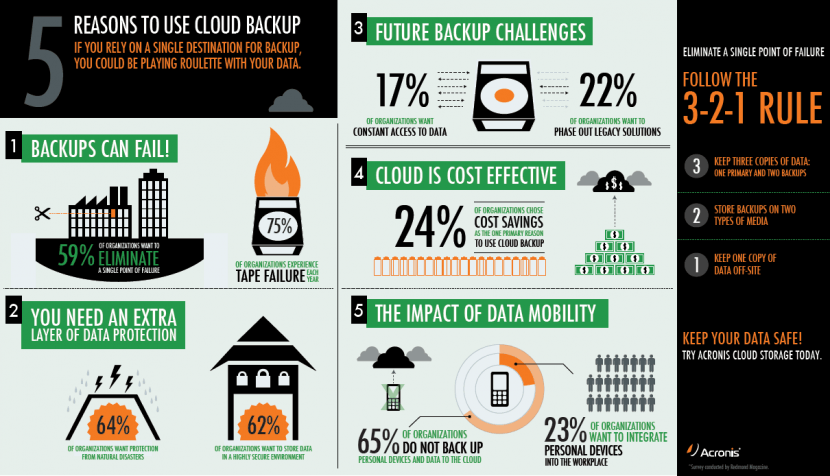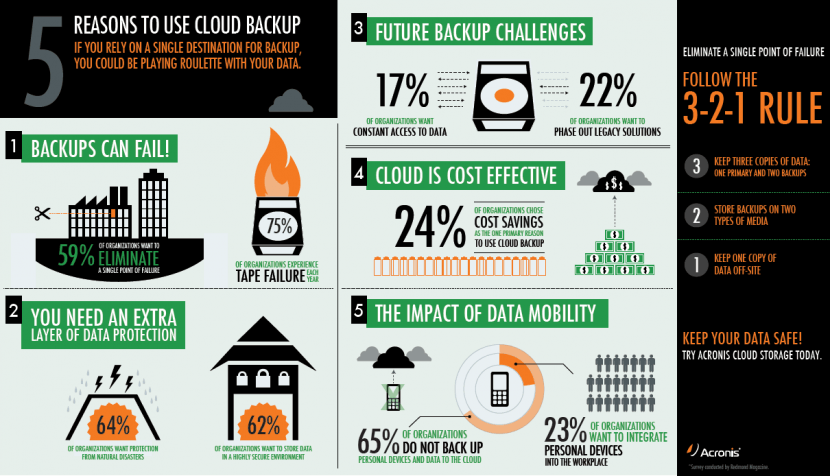 Source: 10 Reliable Offsite Data Backup For Small Businesses and Enterprise